"You're not too sensitive - it's a crazy world out there." This is the motto of Misery, a London-based community consisting of queer, trans and intersex people with experiences of addiction, trauma, disability, neurodivergence, addressing issues around mental health. In the context of Kampires Club & Care Residency Aaks and other members of Misery Party invite you to the Sober Day Rave in Stall 6 and in the hall of the Gessnerallee. Besides various workshops (DO IT YOURSELF - KINKY GEAR WORKSHOP for BIPOC, GENTLE HARMONY for BIPOC, INTRODUCTION TO VOGUE for BIPOC) there will be a tattoo booth, tarot readings, a SELF HELP COMMUNITY SHOP and a drag make-up session. But you can also just chill, eat and drink. From 6pm on there will be DJ sets in the hall, because of course there should be dancing at a Sober Day Rave.
The number of places for the workshops is limited, please register at info@gessnerallee.ch. The rule is: first come, first served. The event is free for BIPoC. All those who are not members of the community are welcome, but are asked to make a financial contribution (pay as you wish) at the door.
The detailed program and an overview of all contributors can be found here:
PROGRAM
DO IT YOURSELF - KINKY GEAR WORKSHOP for BIPOC
with M:NK - the mindful kink project
14:00-17:00 Studio 3
register at info@gessnerallee.ch
In the workshop we will show you how to transform old bicycle tubes into your new favorite perversion: harness, handcuffs, choker, whip etc.: There are no limits to your creativity! The workshop will be conducted in English and German. The workshop is presented by M:NK - the mindful kink project - a multimedia, participatory, sex-positive, eco-queer, feminist art project.
GENTLE HARMONY for BIPOC
with George Adje (he/him)
14:00 - 15:30 Hall
register at info@gessnerallee.ch
We will do some group exercises to help find your voice, listen to each other's voices, and combine them to create uplifting, shifting soundscapes. The workshop will be led by George Adje: musician, choral conductor and researcher from London. The workshop will be conducted in English.
INTRODUCTION TO VOGUE for BIPOC
With Ivy Monteiro (they/them)
16:00 - 18:00 Hall
register at info@gessnerallee.ch
Get introduced to the dance culture of Voguing by pioneer Tropikahl B. Poderosa. Learn the 5 elements of Voguing as we explore basic rhythm techniques; discuss and learn about the legacy, history and more. The workshop will be led by Ivy Monteiro: Since 2017, Ivy has been active in the international vogue and ballroom scene with events, workshops and social practices around ballroom culture.
MEET YOUR DRAG FAIRY GODMOTHER
with Sabrina Oberlin
13:00 - 20:00 Stall 6
Come enjoy a 20-minute makeup session and conversation with Sabrina! She will answer your questions about drag makeup and give you little tips! If you want to get started with drag but don't know how, or if you just want to look good for the night: Sabrina Oberlin is here!
TAROT-READINGS
with Wutangu (she/her)
13:00 - 20:00 Stall 6
Get your cards read by Wutangu. Wutangu is an astrologer, DJ and promoter from Switzerland, working mainly in Brussels. With her collective Leaving Living Dakota, she has been organizing events for the nightlife and art scene of the European capital since 2018. She is the official astrologer of Nylon magazine in France and has more than 200 advisors from all over the world.
SELF-HELP COMMUNITY PHARMACY
with Stéph (she/her)
13:00 - 20:00 Stable 6
The Self-Help Community Pharmacy is a place to find healing, care for yourself, and care for community. A place to heal, soothe, care and protect each other. [Stéph's (https://www.instagram.com/20190703164556.pdf/) field of work shifted from international political and economic systems to mycorrhizal systems, recurrent patterns in all species of the biological kingdom, and designs of intelligence and memory in living things other than humans. Stéph is part of the FUBU collective and the Other Than Human Entities collective.
STICK N POKE TATTOOO
with Sproessli
13:00 - 20:00 Stall 6
Get your stick n poke tattoo with Sproessli!
DJs
Hall & Stall 6 (Hall from 6pm / Stall 6 from 1pm)
KAMPIRE
Kampire is one of East Africa's most exciting DJs and a core member of Kampala's Nyege Nyege collective. Her pulsating, bass-heavy sets have made her a household name in clubs and festivals around the world. "A scene leading DJ who can connect the dots between the past, present and future of African club music." - Resident Advisor
AUTHENTICALLY PLASTIC
As a DJ, producer, and art-making individual based in Kampala, Uganda, Authentically Plastic's sound is inevitably political. Dubbed the "Demon of the Nile" by conservative Ugandan media and politicians, Authentically Plastic has never shied away from breaking norms and expectations. Authentically Plastic hosts a roving, riotous club night in Kampala called ANTI-MASS, which creates space for female, queer, and experimental artists in an increasingly repressive social climate.
LEALA-RAIN
Born in the US to Nigerian parents, Leala-Rain is a London-based raver currently based in Kampala, Uganda. She is a resident DJ for the QTIPOC collective Misery and hosts their monthly radio show on Balamii. She can be heard at club nights in London as well as various online guest mixes and her other monthly radio shows on local Threads Radio in Tottenham.
soungou
Hailing from Zurich, soungou is excited to find his place in the nightly playground of music and partying. He runs a party series called FUBU and his style is best described as a mix of Latin and Afro-influenced club music. His ultimate goal is to create new biotopes for queer BIPoC. "It's about celebrating ourselves and being there for each other," says soungou.
Jean Foncé
Jean Foncé is a black*r, queer* agender poet*, DJ, and event organizer currently living in Basel. Jean's work centers on the lived experiences of Black, queer, and otherwise marginalized people. Jean understands writing and telling counter-narratives from the margins as a practice of resistance. In doing so, Jean emphasizes the importance of centering the voices of those who have historically spoken from this position.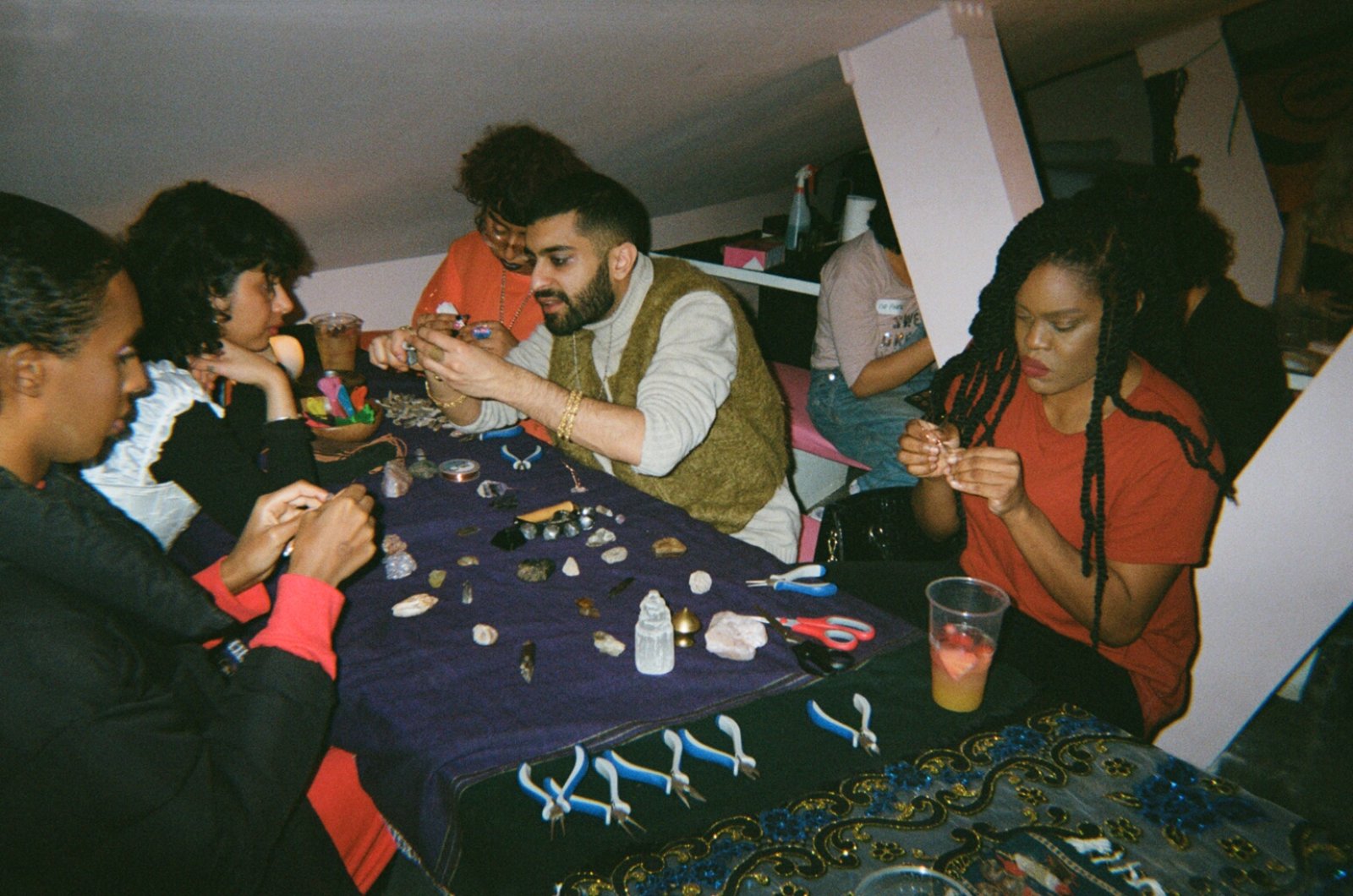 In Collbaboration with zürich moves! Forever Imbricated