SCHAUFENSTER#1 will be touring Zurich in the summer of 2021 with stops at the Theaterspektakel, Lindenplatz and Gessnerallee. The walk-in "instrument" by director and artist Dimitri de Perrot and composer and architect Li Tavor is an interacting architecture in public space. It observes and interprets the sounds and movements of its neighbourhood in surprising ways. A window experience invites us to question our personal view of a supposedly familiar environment in order to stimulate other perspectives on the familiar. Existing and hidden things come to life anew and interfere with the perception of the place.
Dimitri de Perrot and Li Tavor invite visitors to concerts and performances.
DJ Dimitri plays the music of the neighborhood
On 09/16-21 you can bring your favorite records or CD's to SCHAUFENSTER#1 from 18:00-22:30. DJ Dimitri de Perrot will play from this fund and create a mix of your music in the direct encounter. Every record counts. The music from the neighborhood becomes the music for the neighborhood. Well mixed, but not shaken.
Li Tavor - Songs for Spatial Relations
On 9/18-21 at 8:30pm into the blue hour, as SCHAUFENSTER#1 embarks on a wondrous metamorphosis, Li Tavor explores the musical potential of spatial depth dimensions in real time. Can space, be "played" like an acoustic instrument? Can it be composed, for example, in place of pitch sequences? And what kind of places does this newly organized space open up for us? By questioning spatial states like the inside or the outside, the far and the near, Songs for Spatial Relations invites the audience to get lost in space.
SCHAUFENSTER is an initiative of Dimitri de Perrot / Studio DdP and intended as a project series for the greater Zurich area. Next year it will be passed on and reinterpreted by other artists as SCHAUFENSTER#2.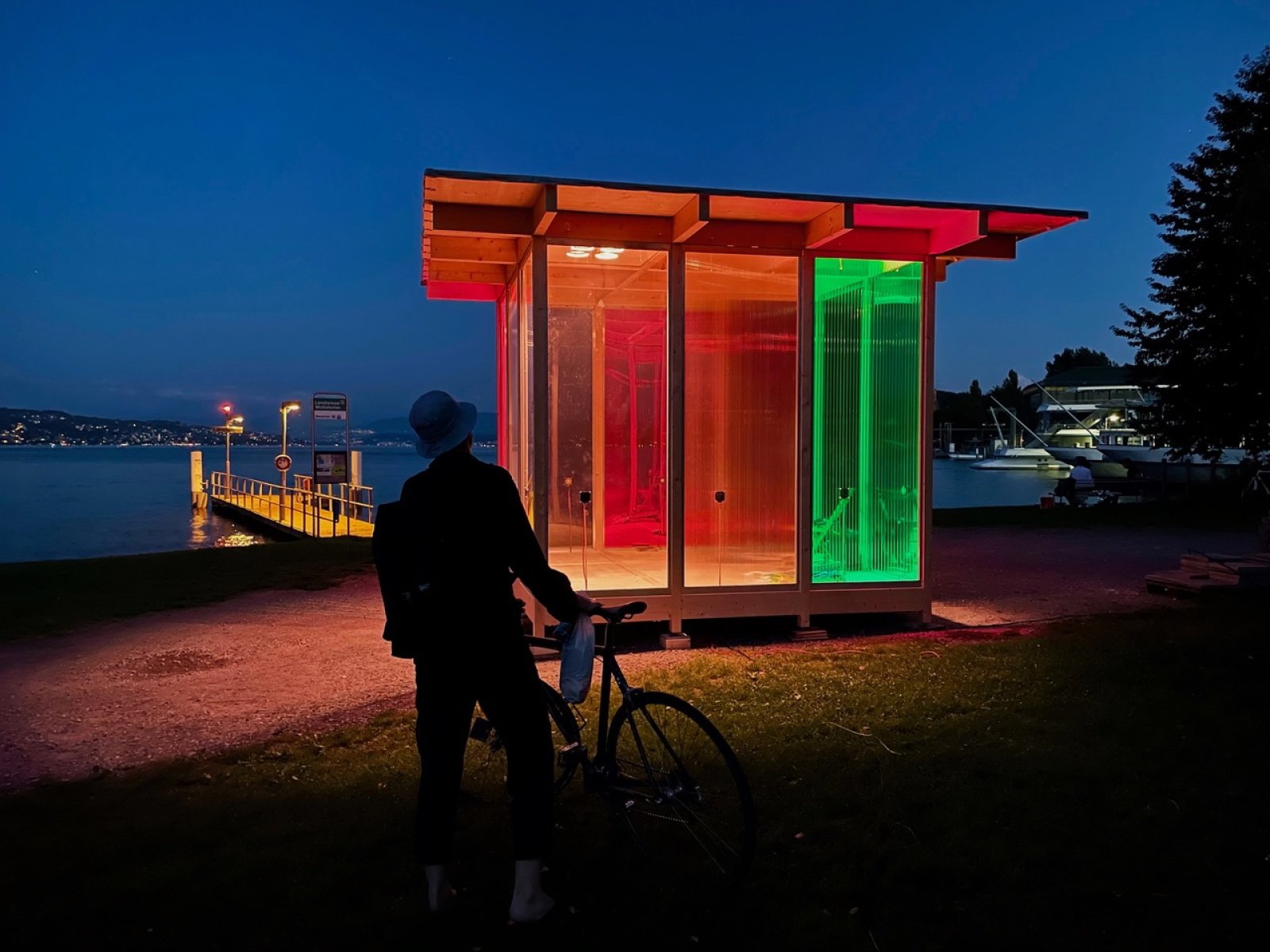 | | |
| --- | --- |
| Artistic direction | Dimitri de Perrot, Li Tavor |
| Audio technology | Nicolas Buzzi |
| Light | Tina Bleuler, Patrik Rimann |
| Planning and construction | Leo Hoffmann |
| Think Tank Project Series | Christoph Meier |
Production: Studio DdP. Co-Production: Gessnerallee. Partner Festival: About Us! With the support of: City of Zurich Culture, Fachstelle Kultur Kanton Zürich, Corymbo Foundation, Landis & Gyr Foundation, Migros Kulturprozent. Dimitri de Perrot is "house artist" of the Gessnerallee Zurich. Dimitri de Perrot / Studio DdP is supported by the City of Zurich Culture with a three-year funding agreement for the years 2020 - 2022.